Are you an avid reader on a budget? Reading books on your Kindle is convenient, but purchasing book downloads can get expensive. Before you get tempted to turn to illegal torrent sites that often hurt the profits of your favorite authors, check out these resources where you can find over 70,000 free ebook downloads directly from Amazon!
Amazon's Free eBook Downloads
Amazon offers a wide variety of free book downloads sorted by popular genres. Whether you're into romance, classic literature, or sci-fi, there's sure to be a great book for you. Amazon updates the selections every day, and you can read other readers' reviews and comments before deciding on a book. Follow this link to browse through hundreds of options to your heart's content, or use these handy links to find free books in a specific category:
Kindle Top 100 Free Book Downloads
Also located on Amazon's website, this list contains the 100 most popular free Kindle books downloads. Best of all, this list is updated hourly, so you'll never run out of new books to read! Check it out by clicking here. You will find an ample selection of just about every genre, from romance to mystery to even some beloved classics like Anne of Green Gables.
Search for Free Books on Amazon
If you want to see all the books Amazon has available for free, simply go to the Kindle store on Amazon, type "free" into the search bar, and hit "Enter." The books won't be in any certain order, so if you don't feel like aimlessly clicking through pages with dozens of different categories, it's easy to search for the genre you prefer. On the left side of the webpage, there should be a menu that looks like this: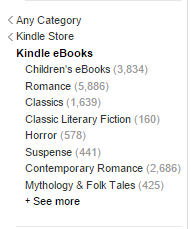 Click on any of these genres or the "+See more" tab to look for free book downloads in any category you'd like.
Kindle Advanced Search
You may not have known about this hidden gem on Amazon: the Kindle eBooks Advanced Search. This webpage makes it simple for you to customize your search results and help you find free book downloads! For example, if you want to see if there's any free books by a certain author, like J.K. Rowling, the link above makes it easy to do so. The Advanced Search page will look like this: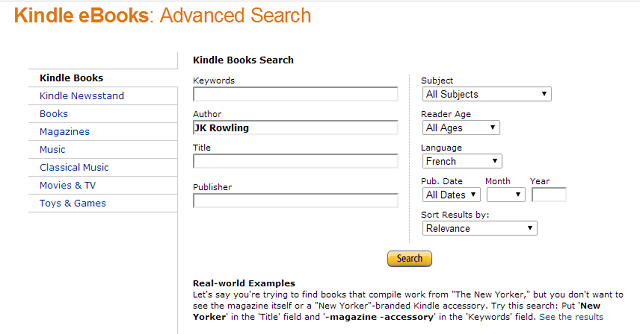 On the right side, you can choose from several of the drop-down menus to search for a certain subject or reader age, or you may simply type in a few keywords or an author's name. Lastly, choose "Price: Low to High" under the "Sort Results by" tab. Hit search, and you'll have a customized list of free and low-priced books to download!
Bookmark This Link to All Kindle Free Books
For your convenience, here's a master list of free Kindle ebooks. Once you click on this link, look at the upper left part of the page to see exactly how many books are currently free to download. Here's what it should look like:

These books are automatically in order by "New and Popular" items, which may look pretty similar to the top 100 Kindle books page. To search through your favorite category, click on any of the links on the left side of your screen to narrow your search. Once you click on a genre, you may further narrow your options with subcategories. Here's what you should find:
Project Gutenberg
Love classic literature? Offering over 57,000 free ebook downloads, gutenberg.org is the perfect website for finding older books. It's completely free to use, and there are no fees or apps you're required to download. This site also features a Top 100 eBooks page that updates monthly and a section of the Most Frequently Downloaded eBooks.
Use Your Local Library
Did you know you can download ebooks from your library? All you need is a library card and a Kindle or Kindle app. Simply go to Overdrive.com, find your local library on the map, and browse through the ebooks they have to offer. Once you have chosen your book, sign on to your Amazon account so the library can deliver the book to your device. Depending on your library's checkout rules, you should be able to keep the book for 1-3 weeks before you need to return them.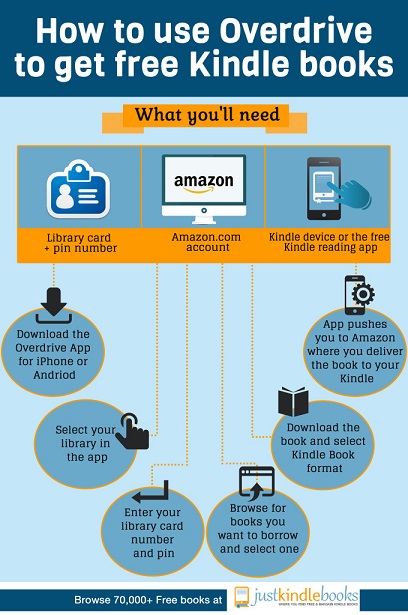 If you want more options for free ebook downloads, JustKindleBooks understands! Sign up for our newsletters to receive free books in your inbox everyday because, as Ernest Hemingway famously said, "There's no friend as loyal as a book."