The links below will take you directly to the free selection of Kindle books on Amazon.com. Note: Amazon includes some paid books it's free selection. If the "Buy now" price is $0.00, then the book is truly free.
Finding free Kindle books is easy once you know where to look. This article will show you 9 more ways to get free books on Kindle.
Amazon.com typically has 60,00 to 80,000 free Kindle books at any given time. While they make it easy to find the top 100 free best sellers in the Kindle store, beyond that they make it almost impossible to browse or search for the other 79,900 free books. Below you will find
the best ways to get free Kindle books.
2) Our next favorite tool for finding free books is the site BookSliced. It lets you search for free books on Amazon and Apple books using a simple set of filters. For example you can search for romance books that have become free within the past 24 hours. We love this site! The search results return the book cover, description and price so you can easily make decisions. When you find the right book for you, simply press the orange "Buy" button and you'll be directed to Amazon.com or Apple books to download the free book. What's more there's no need to create an account to use the free book search on BookSliced!
Pro tip: Booksliced has a feature that will send you an email the instant a book's price goes down. How does it work? To use this feature you'll need to create a free account, and then visit the "Follow Authors" page. You will get customized email alerts each time books by the authors you follow drop in price. Pick from top authors such as, George R.R. Martin, James Patterson, Stephen King or from up and coming authors, or any other author on Amazon.
3) Kindle First: Amazon Prime members get one free book per month as a part of the Kindle First program. Typically there are 6 books each month to select from, but you can only get one of them for free. All books in the selection are published by Amazon Publishing. See this month's selection of Kindle First books.
4) Search for Free: Another way to find free books on Amazon, is to simply search for the word "free." Here's how: go to the Kindle store at amazon.com, which is here: http://www.amazon.com/ebooks. Type "free" in the search box at the top of the page, then hit enter. The books that come up are refined by relevance, which is not going to be too helpful to you. Not to worry, if you look on the left-hand side of the page you will see a navigation menu that looks like this: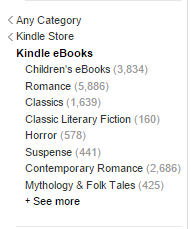 Click on "+See more" at the end of the list. This expands the list of categories. Now click on the category that you want to browse within.
5) Use Kindle Advanced Search: Kindle eBooks Advanced Search is a great tool for finding ebooks by keyword, author or subject matter, and it also lets you find free ebooks! The search page allows you to find books by keyword, author, publisher, and title. You can also use several drop down boxes to refine by reader age, language of the book, etc. The final refinement drop down box is labeled "Sort results by," if you select "Price: Low to High" in this box, then hit search, the search results you get will be in order of free books first, followed by $0.99 books, and so on.
Here's the best way to use the Advanced Search page to find Kindle books for free. In the keywords box, type your genre (i.e., romantic suspense, erotic romance, history, etc. ) or some keywords (i.e. healthy recipes, gluten free, etc.). Next select select "Price: Low to High" in the "Sort results by" drop down. Click the search button, and now you've got a custom tailored list of free books.
6) Bookmark this link: Master list of free ebooks. Once you click through to this list, you'll notice a few things. First, this page will show you the total number of free ebooks on Amazon at that moment. Look in the upper left of the page and you will see the total number. That number is highlighted in the screen shot below:

Next you'll notice that the books are ordered by "New and Popular" which is similar, but not identical, to being in best-selling order. The books you want to read are probably not showing up on the page. So, to find the books in the category/genre you read, just click on a category in the left hand navigation (screen shot below).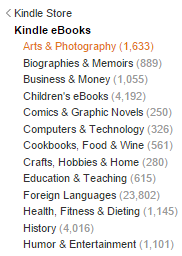 When you click on a category, you'll see the best-selling free books in that top level category. Some categories like nonfiction and romance contain many subcategories. You can drill into the subcategories with left hand navigation.
8) Kindle Unlimited: Like Amazon's "Free 2-day Shipping" which really costs $100 per year, the "Free" books in the Kindle Unlimited selection aren't really free. It will cost you $9.99 per month to access them. Here's where you can browse the full selection of Kindle Unlimited "free" books. Amazon offers a 30-day free trial of the service, but they will automatically begin billing you once the 30-days is up. How do you cancel Kindle Unlimited? You can sign-up for and cancel Kindle Unlimited from the same place: https://www.amazon.com/kindleunlimited.
9) Prime Reading: If you are an Amazon Prime member and you have a US address, then you have special access to 1,000 books, magazines and Kindle Singles that are free to read. This program is called Prime Reading and was formerly known as the Kindle Owners Lending Library. In the past, you could only access the free selection of books from a Kindle eReader. Now you can access the books from Amazon's website. Browse all Prime Reading Eligible books or browse Prime Reading best sellers by genre.
10) Get Library Books on Your Kindle: Many libraries let you check out ebooks for 1-2 weeks, and they deliver them directly to your Kindle, or to your Kindle app on your phone or tablet. You'll need a library card, and online access to your library website. If you have all that, go to Overdrive.com. At Overdrive a map will appear with all of your neighborhood libraries. Click on one, and you will enter a special section of your library's website that shows the ebooks available to borrow. Just browse or search for the title you want then click borrow to get started. At checkout, you'll need to sign-in to Amazon and pick which device you want the book sent to. Additionally, Overdrive has first-rate app for Android, iPhone, and other platforms.
Once you've overcome the complications of setting up your Overdrive account, you might find that there are two downsides to getting free books from your library. 1) For popular books you will often need to get on a waiting list, 2) The selection of ebooks is not especially large. Despite these downsides, we are huge fans of getting ebooks from the library via Overdrive. Here's a link to the Overdrive app.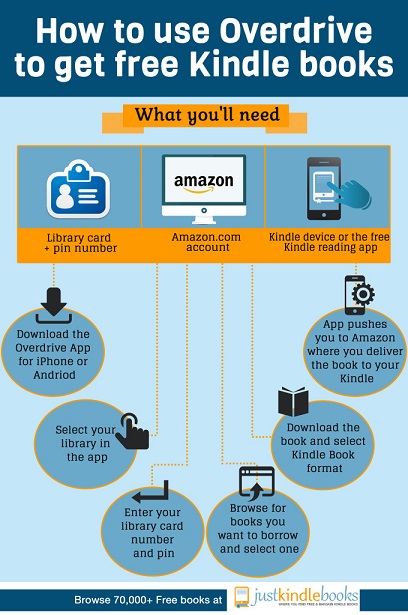 The selection of free books on Amazon changes daily. So if you're after quality free books, it's worthwhile to check the selection every couple of days. Once you settle in on your best way to find free books, you might wonder why you paid for so many books in the past. We hope these tips help you find the free books you want to read. Oh, and why did we leave out Kindle Unlimited? Books that are "free" in the Kindle Unlimited program aren't really free, as you are paying a monthly fee to access them.
If you have accidentally purchased a book that you thought was free, not to worry you can return it for a refund. See How to Return a Kindle Book.
And lastly, a plug for our service….if you enjoy reading and getting free books, then JustKindleBooks is here for you. Our email newsletter delivers hand-selected free books to your inbox each day. (Your email is safe with us. We don't share your information with anyone.)