In March 2019 Kindle Direct Publishing (KDP) released a new eBook Quality Dashboard to inform authors about typos, format issues, and other mistakes or quality issues detected inside their Kindle books.
KDP's New eBook Quality Dashboard
The new KDP dashboard can be accessed from your bookshelf here: https://kdp.amazon.com/en_US/bookshelf.
If you have quality issues to review, you'll see a yellow bar at the top of your KDP Bookshelf. Click the "View Issues" link inside that bar.

You will now be taken to a page where you can see each issue that KDP found for each of your titles. Here's an example: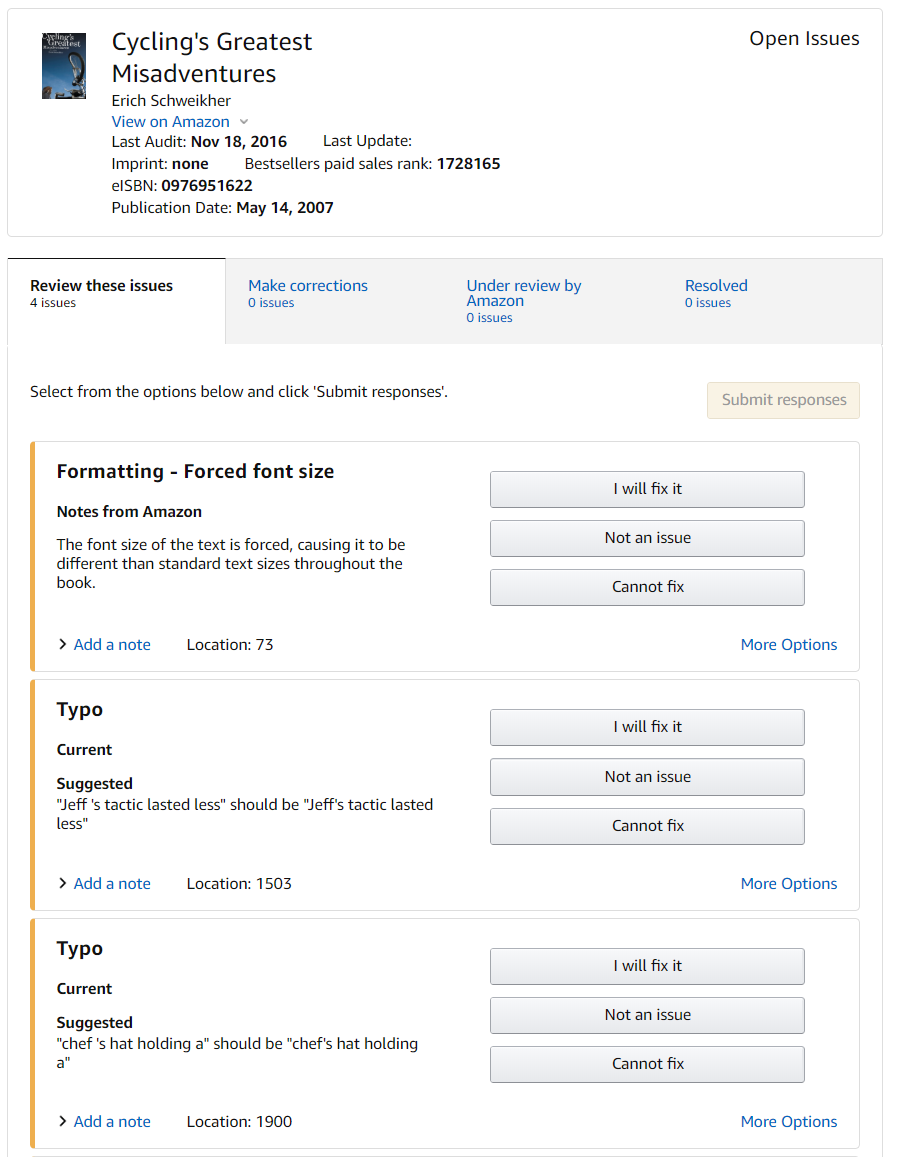 Notice that for each mistake you have three options: 1) I will fix it, 2) Not an issue, 3) Cannot fix.
Unfortunately, KDP does not offer an easy way to fix the issues. It would have been nice if they had another button the read, "fix it" and you could tap that button for an instant fix. Instead, you will have to go into the .mobi file you submitted to Amazon, make the changes and then resubmit the file via KDP.
Amazon has said that every Monday it will send a weekly email for all open quality issues that it has found across all your titles. The email will come from ebook-quality@amazon.com and will have the subject line: Kindle Quality Notice – Open Quality Warning or Suppression.
The email will show your issues in this format:
Below is the weekly status of titles with quality issues in your eBook catalog as of 08 Apr 2019, 07:00:35 -0700..
Number of titles removed from sale: 0
Number of titles with quality warning: 0
Number of titles with open issues: 2
You can learn more about the eBook Quality Dashboard at https://kdp.amazon.com/help/topic/GWCUU33VBJHFSRYN