Did you know that you can share your Kindle books, Audible audio books and all your Kindle apps with your immediate family?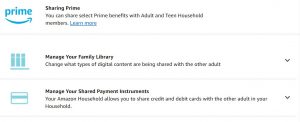 Amazon's Family Library feature allows a total of 2 adults and 4 children to share and access Kindle books, magazines, audiobooks, and other content available through the Kindle store. When you share your content with your family there are no restrictions or limitations on how many days a book can be shared, and or the number of different people can read the same book from different devices. Sharing books with your family members is incredibly convenient, but first, you'll need to set up your Amazon Household account. Here's how:
Sign in to your Amazon account and hover your mouse over the Preferences tab.
Go to Manage My Household
Click on "Add a Child," "Add Adult," or "Add a Teen."
Enter the family member's Amazon email and password if they have one. If they don't have one, you can create a new account for them.
Click "Yes" to allow members to share payment methods.
Hit "Finish."
Once you've set up your Amazon family account, you can start share your entire Kindle and Audible library with your family in 4 easy steps. Here's how:
Go to Manage My Household.
Click on the "Manage Your Content and Devices" section.
Select "Show Family Library" beneath Your Content tab.
Select the the slider next ebooks, audio books or apps/games to share the content with your family member
It's that easy to share.
Looking for free Kindle books to add to your family library? Visit the free Kindle books page to access thousands of free titles. Whether you love non-fiction, romance, or mystery novels, you're be sure to find plenty of options.