Attracting new readers to your book on Amazon.com is a time consuming and sometimes expensive proposition for authors. But what if you could offer a free preview or sample chapters of your book to anyone, anywhere online? A new tool, Kindle Instant Preview, allows you to place a link to your book sample anywhere. This one promotion technique could help you increase your book sales by giving readers the chance to read a small portion of your book without having to go to Amazon. Think about it, you get to reach and influence the reader where they are now, before they get to Amazon. What's more if you're part of Amazon Associates, you could gain additional profits whenever someone clicks on the preview.
Benefits of Kindle Instant Preview
Kindle Instant Preview let readers enjoy a few pages of your book just by clicking on a link that you, as an author, can put anywhere. You can now embed a sample of your book into your blog or website, which can readers get to know your work better and keep them on your web page for longer periods of time as they check out your book. The preview also includes a link that leads directly to the Kindle store where they can purchase it right away.
Where can you use Kindle Instant Preview links to share a sample of your book? Here are some places to consider:
Website/Blog
Email signature
Newsletter
Text messages
Social Posts
Forums
Consider offering a preview or sample of your book in any place that your potential audience might be online.
How to Use Kindle Instant Previews
Using Kindle instant previews couldn't be easier for readers to use, and it's as quick and painless process for authors to set up as well. In just a few steps, you can set up instant previews and share the links in your online content within minutes:
Go to detail page of your Kindle book Amazon.com
Click the "Embed" link, which is located under the buy box, by the other sharing options.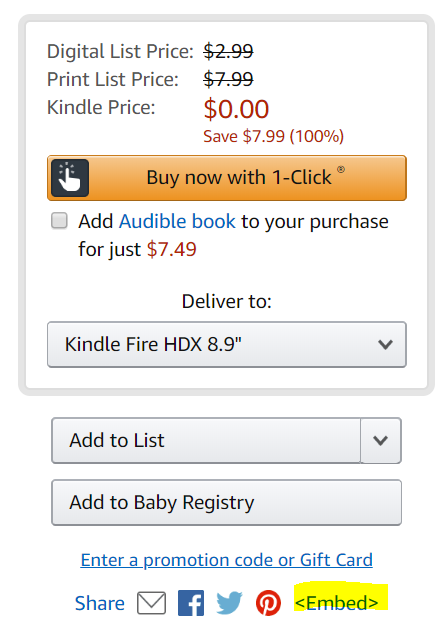 To get a link to the book sample copy the URL
To display the sample right on your site copy embed code and place it in the code of your site
That's all it takes to share a bit of your novel with any interested readers on any of your online platforms! It's simple, fast, and completely free to set up. Give it a try to see how it can affect your sales and book views.