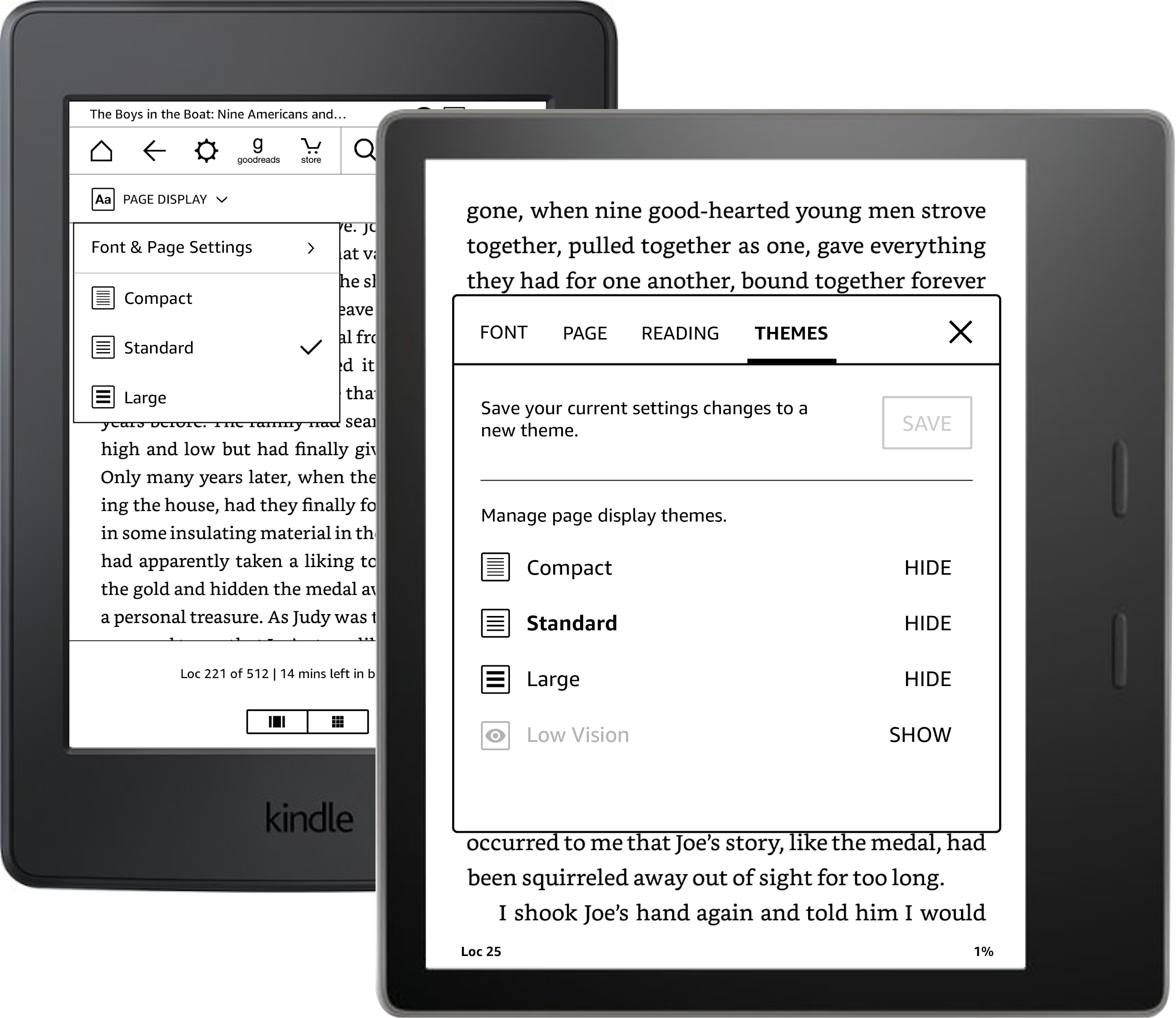 Kindle eBooks with Enhanced Typesetting feature all kinds of tools for readers to customize their own personal reading experiences. Books that support Enhanced Typesetting make reading easier on the eyes with options for changing font styles, text size, margins, and much more.
Features of Enhanced Typesetting
Amazon states that Enhanced Typesetting "give[s] customers an easier reading experience, more control, and better quality." Kindle books with Enhanced Typesetting enable the following features:
Page Flip. The Page Flip feature can save your spot, let you get a bird's eye view of the entire book, and make it easy to track down passages you highlighted before.
Progressive download. Can't wait to dive into your new book? With progressive download, you'll be able to begin reading while the book is still downloading to your device.
High definition visuals (HDV). With HDV support, readers can pore over clear, high-quality images of photos, artwork, graphs, and other visual content authors publish in their eBooks. Users can even take advantage of more recent display technologies with image zooming, pinching, and panning.
Improved font layout. Kindle books with Enhanced Typesetting will automatically adjust for large font sizes or short line lengths to improve readability. No more large spaces between words or squished text at the end of a chapter!
Ragged right justification. Books with a ragged right margin can feel more natural to read. Users can now change the default setting on their Kindle app or device from "full justified" to "left aligned" instead.
Dynamic color contrast. Any text color option will be legible on any background color the reader chooses. In addition, font colors will automatically adjust to improve the contrast between the text and the background.
How to Find Kindle Books with Enhanced Typesetting
Both your Kindle device/App and the Kindle book you want to read need to support Enhanced Typesetting in order for you to use this feature.
Enhanced Typesetting is currently available on all newer Kindle ereaders, as well as the free Kindle apps for iOS, Android, PC, and Mac. You can discover all of the Enhanced Typesetting options by clicking on the Display Settings (Aa) menu while reading a Kindle book.
Not all Kindle books support Enhanced Typesetting. Here are two ways to know if a Kindle book supports it:
If you are about purchase the book, scroll down the book's detail page to "Product details" section. Look to see if Enhanced Typesetting is "enabled" (see image below). Unfortunately, Amazon does not offer a refinement/filter for books with this feature.
If you already own the book, then open it in your Kindle reader and tap the "Aa" menu, then select "More." If you see tabs for Fonts, Pages, Reading and Themes then book supports Enhanced Typesetting.