Growing up, you probably heard one clichéd bit of advice frequently: "Don't judge a book by its cover." While this sentiment is well-meaning, it's a cliché precisely because readers do in fact judge and decide on books by their covers. As an author, you should approach your book cover decision not just with a gut feeling, but with data. Your cover choice can make or break your sales. And it's not just your book cover. Your book title and your book description are critical when it comes to converting users who land on your book detail page on Amazon or other online bookstores.
In one survey, 79% of readers said the cover plays a significant role in their decision to purchase a book. This quick judgement makes sense. The cover suggests to the reader what genre the book falls in, what sub-genre it's in, as well as the emotional tone, the gravity, and other elements of the book.
Over 1 million books are published every year in the United States alone. That's a lot of new competition each and every year. To ensure your novel's first impression makes a lasting impact, you can, and should, take advantage of A/B testing.
What Is A/B Testing?
A/B testing is a controlled experiment that helps you determine which cover, title, and description leads to the highest conversion, gets the most clicks or receives the best feedback from your desired audience.
For book covers, this type of testing usually involves asking users to pick from two or more potential covers. You can ask your audience to choose which one they like better. Then, you can put aside the losing cover, and compare the winning cover to another option. Repeat until you have landed on the best possible cover.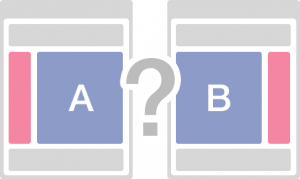 Crafting a great book title is like creating a work of art. It should attract and seduce your audience, but still have your own special flare. To A/B test your potential titles you can have readers vote on the best title by simply presenting them the title without a book cover or description. It's important to test the title without the other variables so you can get a clean read on how attractive the title alone is to your audience.
After your title and cover, your book blurb is the most important part of selling your novel. Customers will read this description and decide whether to spend their precious time reading your book. To test your book blurb you can send two different blurbs to your potential readers and ask them to vote on them. You can also place ads featuring one or the other to the same audience segment. Whichever gains the most clicks or traction is the one you should use.
Reviews are the fourth most impactful element for book sales. Unfortunately, you can't A/B test which reviews show up on your book's detail page.
Book Cover Best Practices
Before we dive into the how of A/B testing, let's have a frank talk about book covers. You may not want to hear it, but it's best to follow these three simple pieces of advice:
Make your cover look a lot like the best sellers in your genre or sub-genre
If the content of your book blends two genres then pick one genre and have the cover reflect that genre only. Let's say your book is a cross of literary fiction and dystopian fiction or it's a cross of time-travel romance and historical fiction, trying to message this genre blend in your book cover typically will confuse people. Readers are highly accustomed to recognizing a book's genre by the cover. It's best to pick one genre and have your cover speak that genre. We know that many authors don't want to hear this, but we can tell you that it rarely works in your favor to use the cover to message something other than one clear genre. But if you don't trust us, then A/B test it.
Don't include guns (or anything suggestive of guns such as a gun sight), nudity (men's bare chests are okay), violence, corpses, mutilation, blood, hate symbols or religious symbols in your covers. This is the quickest way to get your title excluded from emails and excluded from appearing in widgets/carousels in Amazon's Kindle store as well as the strorefront on Kindle Fire and Kindle e-ink devices. Amazon does not want to put potentially offensive book covers front and center. When they deem a cover offensive, the book may get limited exposure, or, in worse can scenarios, users will only be able to find it by searching specifically for it. What's more Facebook, Goodreads, Bookbub and Google will also likely reject ads of books that have offensive covers.
Book Description Best Practices
When it comes to book descriptions we have some prescriptive advice to help position your book for strong sales. Make your description true to your book, but follow these three rules:
Read the book descriptions of the best sellers in your genre and then emulate the descriptions that you think are the best.
Look to see where Amazon is cutting off the average Kindle Book description. You'll see on almost all Kindle book pages that Amazon shows roughly 4-6 lines of text and then has a "< Read more" link which expands the text. Seduce your potential reader in the first 4 lines of your book description. It's okay to have a description that is longer than 4-6 lines. Just make sure you use those first 4-6 lines wisely.
Avoid certain words that may trigger Amazon, Facebook, Goodreads, Bookbub or Google to flag your book as "adult" or "not safe for work" or potentially offensive. Any words having to do with sex or names sexual acts might trigger these platforms to block or restrict how much exposure your book or ad gets. Instead use words like intense, passionate, steamy, hot, wild night, electric chemistry, etc. Also avoid profanity, racial slurs, insults, hate speech, or derogatory terms. Lastly avoid words that could be highly sensitive to some people such as divorce, pregnancy, pregnant, miscarriage, death, etc. We don't know all the words that trigger platforms to suppress your book, or ad for your book, but it's best to be ultra-conservative in your word choice.
Choosing your Book Title
There are actual strategies for coming up with a book title. But there is no one formula for success. Our advice: come up with five titles and A/B test them.
How to A/B Test Your Cover
There are many ways to A/B test your book cover. No matter which way you go about it, you should follow these best practices. 1) Run the test on a similar audience to that who will buy or read your book. If you write for teenagers or young adults, get teenagers to make up your test group. If you write romance novels that are mostly read by women aged 40 to 60, then target women age 40-60 who read romance novels. 2) Try to get as many responses as you can. You may not get to statistical significance on your test, but the more responses you get, the more you rule out that your results are simply random.
Below are places to begin you're A/B testing:
Run a Facebook Poll
Facebook is a vital tool for authors. Not only can you advertise your upcoming book, but you can use the poll feature for split testing for book covers. If you already have a large follower base, you can use the poll option for free to test which cover, blurb, or title is the most effective. If you do not have a following, or if you want to reach a larger audience, you can pay to boost your post. Facebook allows you to customize who sees your boosted poll, so you can target your desired audience.
Use Polling Platforms
Although social media is a great tool, you may want to expand you're A/B testing reach. If Facebook is giving you limited results, you can test your book title, cover, and descriptions via a polling platform like PickFu. All the feedback you get on PickFu is from real readers. For as low as $50, you can start polling immediately. The quantitative results will come in quickly, and PickFu also gives you written qualitative feedback, so if both of your options aren't working, you will know what changes to make right away.
Utilize KBoards
With Facebook and PickFu, you are typically receiving feedback from readers. Although their reactions are extremely valuable, sometimes you need an author's perspective. KBoards allows you to get feedback from both readers and authors. To utilize KBoards, you can start a thread about your book. You can list all the options you are debating between, and ask people to vote on the best title, cover, or description. KBoards allow you to have a discussion with your peers on the thread, so you can receive instant feedback. But beware, not everyone on Kboards is friendly.
Place Ads on Google or Facebook for Both Covers
To reach the largest test population, you should run split test advertisements. These advertisements can be placed through Facebook, Google, or other platforms. Before your book is published, you can advertise two different covers. As the book does not yet exist, you can simple have the add link to your author page on Amazon or another one of your books. (This way, not only are you receiving powerful A/B testing results, but potential readers are gaining access to your work.) All you are interested in at this point in which book cover (or title) gets the most number of clicks at the lowest cost per click. When setting up the advertisements, make sure that both run at the same time, have the same amount of spend behind them and have the exact same audience targeting parameters. Whichever book cover or book title receives the most clicks can be crowned the winner.
Once you have decided on your cover, title and blurb it's time to promote your book. Visit JustKindleBooks to see our effective book promotion options.