JustKindleBooks has more than 40,500 newsletter subscribers, and we drive an average of 120 paid purchases, 2,300 free book downloads, and hundreds of KU borrows through Amazon each day. Combined with our sister site, eReaderNation, we have 70,000+ Facebook followers. We accept all genres, including erotic romance. Our top performing genres are romance, mystery/thriller, erotic romance, paranormal fiction, women's fiction, cooking and self-help.
Premium Kindle Book Promotion – ($33) Our premium book promotion guarantees maximum exposure. With this promotion your book will get all of the following:
A top spot in our newsletter & homepage for 1 day
A custom written JustKindleBooks Facebook post
Optional: Boost your Facebook post to reach up to 20,000 addt'l readers.
A post on our other social channels: Twitter, Google+, Pinterest, StumbleUpon, Tumblr & Flipboard.
A top spot in eReaderNation's newsletter & homepage for 1 day  Book It Now.
Premium Book Promotion Plus – ($38)  This promotion gives you everything in the premium promotion listed above, plus:
Extra 2-3 days of Homepage exposure in our Hot Books section
Optional: Add an eReaderNation Facebook post. Book it Now.
Budget Book Promotion – ($18) Our budget book promotion is simple and affordable. With this promotion your book will get:
Homepage + newsletter placement for 1 day
A post on our other social channels: Twitter, Google+, Pinterest, StumbleUpon, Tumblr & Flipboard.
A spot in eReaderNation's newsletter & homepage for 1 day  Book it Now
Amazon Follower Boost– *NEW*  ($5) Get more followers on Amazon! Only $5 for a limited time. Learn more
Bulk Submissions — Would you like to submit 25 books or more for promotion? We can set up all the promotions and give you a discount. All we need to get started is the book ASIN, category, date of promotion and the book price. Contact us for more information.
Free Book Promotion — We no longer offer our free book promotion. We retired it on 9/25/2015. Since 2012 we have promoted thousands of indie author books at no cost.  Each promotion was set up by hand. It was time consuming work, and we loved supporting indie authors in this way. We now have overwhelming demand for our book promotions, and not enough time to fulfill all of the free promotion requests we get each day. If you'd like to share your comments or suggestions with us, we would love to hear them. Contact us here.
FAQs
Why choose JustKindleBooks to run your promotion?
Lots of reasons. 1) Kindle book marketing and promotion is our passion and with 7 years of experience we've dialed in a system that works. 2) We're transparent with our numbers. We have a combined email list of 40,500+ readers with an average open rate of 16.2%. 3) We invest significantly each month in growing our email subscribers and Facebook followers.  4) We allow you to use a short link so you can track exactly how many clicks your promotion drives to your Amazon detail page.
How far in advance should I submit my book promotion?
We can schedule book promotions within 24 hours. We can typically get your promotion in the next day, if you submit it by 2PM PT/5PM ET. You'll get a personal confirmation from us once the promotion is set up.
I want to track the clicks that come from my promotion, do you accept bit.ly links?
Yes! Include the bit.ly link or shortened tracking link you would like to use in the notes section of the submission form, and we will create the promotion with it.
What genres work best with your readers?
These are the genres that see the highest click rates on our site and in our newsletter: Romance (all sub-genres from Christian Romance, Sweet Romance, Paranormal Romance, Western Romance, Romantic Suspense, etc.), Women's Fiction, Erotic Romance, Mysteries, Thrillers, Paranormal Fiction, Urban Fantasy, YA books with cross over appeal, Christian Fiction, Christian Spirituality, Biographies about women who have overcome challenges, Cookbooks, How-to, Parenting/Relationships, Fitness, Self-Help & advice books.
We see a slightly lower click rate on Children's books, Sci-fi, Epic Fantasy, Literary Fiction & General Non-Fiction.
We do not recommend our site for technical books, computer programming books, text books, social studies, economics, art, graphic novels, education, history, law, science, political science, sports, reference & travel.
Do you accept erotic romance?
Yes. We accept erotic romance, but if there's too much offensive language in the book description, or if the cover depicts violence, nudity, or is overtly sexual  we may reject the promotion and refund your money.
What frequency do you recommend between listings for your paid book promotions?
If you have already run a promotion for a particular book, and you want to run another promotion for that book priced at $0.99 or higher, we recommend spacing out the promotions by several weeks. If you plan to price the book at free for the second promotion, then one week of spacing is sufficient.
How can I prepare for my book promotion?
Here are the best things you can do to get your book ready to promote (listed in order of importance):
1) Make sure your cover reflects the genre of your book. If a reader can't identify the genre of your book by glancing at your cover, you are likely losing sales that you could have captured.
2) Make sure your Amazon book description is well written. "Well written" is rather subjective, but here's are some questions to ask about your current book description: Does it seduce the reader into wanting to know more about your book? Can readers tell what genre the book is from your book description? Can someone read the entire description in under 60 seconds? How does your book description compare against the book descriptions of the current best sellers in your genre? It's worth looking at the book descriptions of some best sellers that are like your book.
3) Reviews, reviews, reviews. Real reviews from real readers help customers make purchases. It's better to launch your book promotion after your book has some reviews. Our advice: never buy reviews. Don't buy them even if the company selling them offers to buy your book, read it, and post the review on Amazon with Amazon's verified purchase badge. We can spot fake/paid reviews, and we think readers can tell the difference between fake and real reviews.
4) Run multiple promotions at the same time. Running a Countdown Deal or setting your book price to free (both are only available if your book is enrolled in KDP Select) can lead to more sales. But author's can amplify theses sales by pairing a price discounts or free sale with not one, but several, or many promotions that all launch on the same day. Why run all the promotions on the same day? If you can crack the top 100 on Kindle, your book has a better chance of organic discovery. We're not the only quality book promotion site. There's bookbub, pixelofink, bookgorilla, and many others. Here's a fairly comprehensive list of free and paid book promotion sites: Big List of Book Promo Sites.
What are some things that top selling ebooks have in common with each other?
Top selling ebooks tend to resonate with readers to such a degree that they can't help but talk about these books with friends and family. Aside from this, there are several other things that these books have in common as illustrated in the infographic below.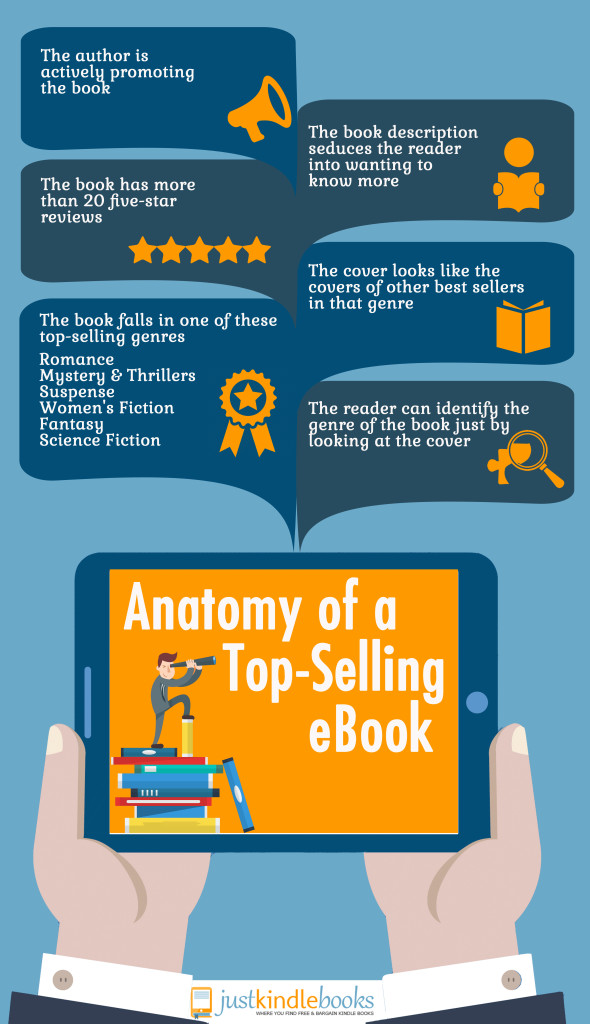 Contact Us
Got questions? Use the form below to ask questions about our book promotion service.
Additional Options
Author Badges / Link To Us – If you have had a book featured on Just Kindle Books you can use these badges on your blog/website to spread the word. Let everyone know you are a featured author.
Author Survey – Take our author survey and be entered for a chance to win a free paid promotion.