When Kindle devices occasionally get sluggish or freeze up, the first course of action should be to simply restart the device. However, if this doesn't help the situation, a stronger solution might be required to fix the underlying issues.
Reasons to Factory Reset Your Kindle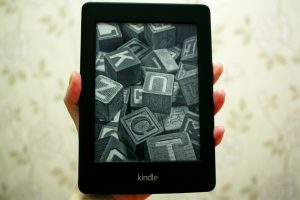 One of the most common reasons to factory reset your Kindle is if you're planning to sell it or give it away. A factory reset restores your device back to its original settings. The reset erases your content and disconnects the Kindle from your Amazon account. The device will be wiped clean of all of your information.
Your content isn't lost forever if you reset your Kindle, though. All you Kindle books will still be stored safely in your Kindle library. If your Kindle is having serious glitches or issues, a factory reset can fix these problems by rebooting the device to square one. You will still be able to access all of your Kindle content by logging into your Amazon account and going to your Kindle library. This content will be available for you to re-download onto your Kindle, or you can download everything to a different device.
How to Reset Your Kindle eReader
Before completing a factory reset, be sure that your eReader has a full battery. Once the device is charged, follow these steps:
On the Home screen, select Menu.
Go to Settings.
Tap on Menu again and select Reset Device.
When the dialogue box pops up, click Yes to continue with the reset process.
After the reset is completed, your Kindle eReader will no longer be registered to your Amazon account, be able to connect to WiFi automatically, or access any of your personal information. If you'd like to continue using the device, simply register the eReader again with your Amazon account.
How to Reset Your Kindle Fire
It's recommended to reset your Kindle Fire when it's at least 30% charged to ensure the entire resetting process will be successful. Depending on the generation of your Kindle Fire, there are a few different options for factory resetting the device:
Generations 1 and 2: Go to Settings, tap More, and then select Device. Hit the button that says "Reset to Factory Defaults" and then "Erase Everything."
Option 1 for Generations 3-7: Click on Settings, navigate to Device Options, and hit "Reset to Factory Defaults." Tap "Reset" to confirm.
Option 2 for Generations 3-7: When the Kindle Fire is off, press and hold the Power button and the Volume Down button simultaneously. A dialogue box should appear. Using the volume buttons, toggle down to the button that reads "Wipe Data/Factory Reset." Press the Power button to select this option, and then use the volume buttons to hit "Yes— delete all user data." Hit the Power button again.
If you run into issues during your factory reset you can always contact Kindle customer service.
Once your Kindle is reset and as good as new, be sure to add to your growing library by visiting the JustKindleBooks free books page! Here, you can browse through dozens of genres to find countless Kindle books available for free download directly from the Kindle store. Happy reading!