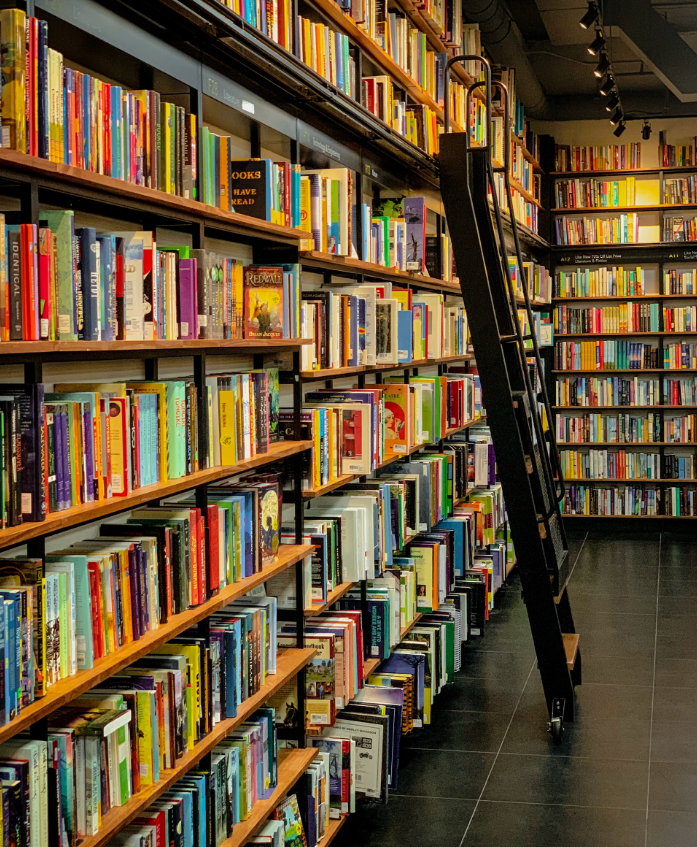 Looking for the best place to buy books online? Next time you need a book, consider getting it from one of these book discounter or second-hand retailer. Here are the 25 best places to buy discounted and used hardcover and paperback books.
Top sites to buy books online
1. AbeBooks
This quirky site has lots of helpful features, great sales, unique titles, and staff-curated recommendations. AbeBooks has an ISBN search engine to make it easy for students to find the right textbooks, and they frequently have 60% off sales. Take a look around the website to find all kinds of genres, from textbooks to the latest sci-fi novels.
2. Alibris
Alibris describes itself as a "media marketplace," and was first launched back in 1998. It currently lists over 150 million books, movies, and albums on the website for customers to browse through and enjoy. You'll find plenty of deals and discounts, as well as free shipping for all orders costing $39 or more.
3. Amazon Books
You've probably already heard of Amazon's enormous selection of books. You can find everything from fantasy novels to textbooks to Kindle books to audio books, all for relatively inexpensive prices. Amazon sells both new and second-hand books, typically you need to click "more buying options" to see the used selection.
4. Awesome Books
Awesome Books has over 5 million low-priced used and new books on their website. Along with books, you'll find CDs, movies, video games, and other forms of media available for discounted prices. Awesome Books is also a strong supporter of numerous literacy projects, so they'll donate one book for each book you purchase from them.
5. Better World Books
This charitable site offers discounted books for you to purchase, and for each title you buy, they'll donate one to someone in need. The company also pays to minimize their carbon footprints, while still offering free shipping worldwide. With over 13 million books to choose from, Better World Books is a fantastic choice when you want to find the perfect read and do something positive at the same time.
6. Biblio
Biblio has created a collaborative marketplace with international booksellers to reach its outstanding collection of over 100 million books in stock. Check out the "Exclusive Specials" page for incredible deals from indie sellers, or just browse through the curated selections from hundreds of passionate bibliophiles around the world. You can feel good about your purchases as well, as Biblio is committed to reducing their carbon footprint.
7. Blackwell's Bookstore
The very first Blackwell bookstore opened in Oxford in the year 1879, and today, the business is still growing and continuing its long legacy. The physical bookstore itself held the Guinness World Record for over 50 years for having the single largest room in the world dedicated to selling books. The lovely store attracts readers from all over the world, but you can access plenty of their unique titles by simply browsing their website.
8. Booktopia
Booktopia is an award-winning Australian bookstore that has been a member of the Australian Booksellers Association for over 15 years. They have excellent deals on children's books, fiction, YA novels, and more, with hundreds of thousands of titles in their inventory. Check out their stellar reviews to see how many customers have fallen in love with the unbeatable services of Booktopia.
9. Books-A-Million
This bookstore has discounts on new books, bestsellers, and even books that haven't even been released yet! You'll find incredible weekly deals, cheap bargain titles, and other sales as you browse this site. As another bonus, the site has thousands of excellent deals on eBooks and allows you to pre-order digital and physical copies of the latest releases.
10. Book Depository
You'll find both the newest bestsellers and inexpensive bargain books thoughtfully organized on this site. With free global shipping, you can feel free to add as many books as you'd like to your cart!
11. Book Monster
This bookstore, based in Santa Monica, offers books in excellent condition for up to 70% off on their website. They have books in dozens of genres, from architecture to children's literature to travel. Book Monster even has textbooks and a "Super Buyback" program for certain titles.
12. BookMooch
BookMooch is basically free after you sign up. Simply create a list of books you have that you'd like to give away and create a separate wishlist for books you want to read. If someone requests a book from you, you'll receive a credit after you ship it to them. Your points can be used to request titles from somebody else. It's like an international book-swapping program!
13. Book Outlet
Book Outlet offers what they call "read-iculous prices" on a wide variety of titles. They offer student discounts, a bargain book section, the latest bestsellers, and free shipping on orders $35 and over. They also guarantee that all books will be delivered in great condition with their "We're Readers Too" program.
14. Daedalus Books
Daedalus Books is well-known for selling classic novels and the bestselling books from previous years. The site offers a collection of books remaindered by publishers, or new books that didn't sell for whatever reason. However, you can rest assured that you'll find high-quality titles, as the staff is very particular about supplying books people will love at bargain prices. For additional discounts, simply sign up for the email list for 10% off your first order.
15. Discover Books
Discover Books is dedicated to rescuing books from being thrown away. Along with selling titles at extremely low prices, the business also redistributes books to organizations and charities and recycles books that are no longer fit to be sold or donated. Discover Books carefully sorts through thousands of books to determine which ones could be sold, which would be best suited for libraries or schools, and which should be recycled.
16. eBay
Thousands of cheap books are available on eBay, including textbooks, cookbooks, bestsellers, and collectibles. Many titles are eligible for free shipping as well.
17. Half Price Books
Half Price Books is a broad marketplace made up of over 20,000 individual sellers from around the globe, giving readers access to countless new, used, and rare books. Whether you're into sci-fi or political commentary, you'll be able to find plenty of inexpensive reading material on this site! Be sure to check back frequently, as Half Price Books often has special sales and deals, such as offering 20% off entire orders.
18. Indigo
This Canadian bookstore offers hundreds of bargain books for up to 80% their retail price. You can filter results by bestselling fiction, non-fiction, cookbooks, children's books, and dozens of other categories to find exactly what you need. Check out the site for other offers, such as 40% off selected bestsellers, and their featured "Author of the Month" page (February's author is Nora Roberts!).
19. PaperbackSwap
If you're looking for a pen-pal with benefits, PaperbackSwap is the best place to go for finding (and sharing) the latest bestselling books and new titles. This website makes it easy to trade books with other members, giving each person a credit with each book shipped. These credits can then be used to purchase a brand-new book at a discounted price, or to request another book from someone else. If you sign up now, you'll get two credits automatically to start off your book-trading adventure!
20. Powell's Books
Originating in Portland, Oregon, Powell's specializes in indie titles, new authors, and used books. The website offers blog posts with staff recommendations, playlists from authors themselves, staff-curated themed book sales, and other unique finds and offers. If you order items that add up to $50 or more, you'll be eligible for free shipping.
21. SecondSale.com
This incredibly expansive discount book market has over 10 million titles and provides free shipping for every order. Prices start at just $3.78, and you can get 10% off your first order if you sign up for their newsletter. They offer a hassle-free 30-day return policy if you don't enjoy the book you purchase, and you can sell any of your old books to them for cash.
22. The Book People
The Book People was originally founded in 1988 by two avid book enthusiasts, Ted Smart and Seni Glaister, who had the dream of making books more affordable and accessible to everyone. This site purchases titles in bulk from publishers and suppliers to pass on amazing savings to their customers. The website also offers other items, including toys, gifts, and lovely stationery for the writer in your own life.
23. The Strand
This New York City bookstore has an impressive inventory of books, rumored to take up 18 miles if placed end-to-end. Every single book listed on the site is sold at a discounted rate, and you can even pre-order books that haven't even been published yet. You'll be able to find everything from rare titles to the latest best-sellers to new indie authors here.
24. Thrift Books
Thrift Books offers inexpensive used books and free shipping on all orders throughout the US. The company is committed to being eco-friendly, partnering with several different libraries and vendors to prevent books from ending up in landfills. Any books they're unable to sell are recycled; never thrown away. Additionally, you can get special discounts and savings if you purchase more than one book from the same author.
25. Wonderbk
Prices begin at just $3.99 for adult, YA, and children's books, and you'll get an automatic 10% discount on your order if you select 5 or more titles. There are more than 2 million books to sift through, as well as music, comics, games, and movies. As an added bonus, everything ships for free, too!
We leave you with a quote from the 19th-century social reformist Henry Ward Beecher, who once mused, "Where is human nature so weak as in the bookstore?"
If you'd prefer to spend your time reading instead of searching for the perfect book to read, sign up for the JustKindleBooks newsletter to get personalized recommendations delivered straight to your inbox! Also, be sure to check out our free Kindle books page to access thousands of titles you can download directly from Amazon right now.