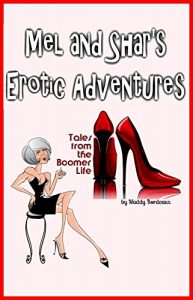 Are baby boomers panting for Elderly Erotica?
Mel and Shar, two friends of a certain age, say, "Absolutely!"
So, despite the fact that neither lady has ever watched a porn video or read anything steamier than Eighties romances, they decide Elderly Erotica is their ticket to fame and fortune.
Follow the adventures of Mel McCartney and Shar Ledowsky, as they kind of, sort of explore all things erotic—and end up proving there's still a lot of life left in at least a few boomers! $2.99 on Kindle.